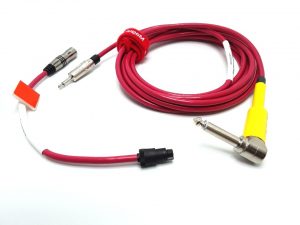 Device Alarm Connection Instructions for ResMed Ventilators
Due to the fragile nature of the alarm output connector on the ResMed Astral 150 ventilator, APCOR, Inc. has developed a solution which protects the device's port from the damage which occurs after repeated use. This two-piece design includes a rugged adapter (ME550ASTRAL for normally open systems and ME550ASTRALC for normally closed systems) and the corresponding ventilator alarm cable (ME590333N). Both the adapter and the alarm cable are included under part #'s:
ME590153: for use with normally closed systems          and          ME590153E: for use with normally open systems
Installation instructions:
Connect the 5 pin end of the adapter into the ventilator output port.

Thread the adapter cable behind the open rubber flaps.

Peel the backing off the cable tie mount and adhere it over the area displaying the DC Power input symbol.

Connect the 1/8" plug of the alarm cable into the mating jack of the now mounted rugged adapter.

Connect the right angle of the alarm cable into the designated headwall jack near the patient bedside.
Note: The rugged adapter is designed to remain permanently attached to the ventilator. To disconnect the alarm cable from the ventilator, grasp the end of the adapter in one hand and the end of the alarm cable in the other and pull the connector ends apart 

(see image #4).